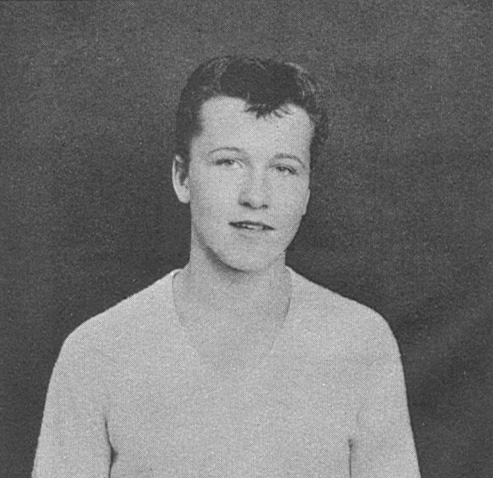 Al Morrison yearbook photo 1958-59
At the beginning of this first volume of the journal I'm twelve and in Mrs Christiansen's Grade 7 class, which that year is in one room with the Grade 8's. Part 1: January-October 1958 first journals. Part 2: October-November1958 long US trip begins. Part 3: November-January 1958-9 Arizona and California. Part 4: January-March 1959 Clearbrook and back home.
Gerald Student, Al Morrison, Adrienne Morrison, Janeen Postman, Myrtle Torgerson, Bobbi Mailor, Dr Rostrup, Janet Peters, Martin Esau.
La Glace School, Peace River Bible Institute, Bear Lake Bible Camp, CFGP, DEW line base on Saskatoon Mountain, Esther Epp, University Hospital in Edmonton, Three Hills Bible Institute, Mennonite Brethren Bible College in Winnipeg, Hillsboro Kansas, Mesa Arizona, Canyon Lake campground Arizona, Old Tucson Park, San Luis Mexico, 29 Palms USO, Pasadena, Mennonite Educational Institute in Clearbook BC, Shroeder's Cabins, Kelowna BC.
Red river of life, LM Montgomery Emily of New Moon and Emily climbs, The diary of a young girl, 1st Corinthians 13, Minnesota Gussies vs Arizona Lumberjacks, the Perry Como Show, Connie Francis Who's sorry now, Gunsmoke, Gale Storm, Rose Bowl Parade, Wuthering Heights, Riders of the purple sage.
---
I suppose this book is going to be mostly about boy-business. It seems that's my main interest nowadays. If they smile at me, wistle, honk their horns, or even look at me, I feel as if a world shaking event has taken place and I must write it down quick in my "dear journal."