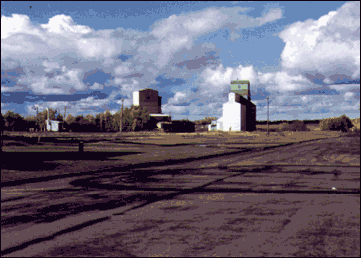 Today is December 20. It is raining outside. I can hear it on the roof. I'm seventeen. Today I've been very briefly in several worlds - Salinger's Caulfield, Thomas Wolff's Hills Beyond, piquant worlds of people who write. And again I felt as tho' I should write. But is there in me not only a wish but a way too, a way of setting words to show the shaded patterns of what I know to people who read? Maybe it is too soon to tell. But I feel aware, I feel like a writer.
At the start of this last volume of Still at home I'm seventeen and about to begin my last year of high school. Because the school in La Glace stopped at grade eleven the County boarded us elsewhere for grade 12. Most of the kids in my year went to Grande Prairie High but I chose Sexsmith School, where David Mann was now the principal.
Part 1 first half of grade 12. Part 2 Christmas. Part 3 last half of grade 12. Part 4 berry-picking in Clearbrook again. Part 5 cannery work at York Farm.
---
Sexsmith is an agricultural town fifteen miles east of La Glace. In 1962 it had gravelled streets, a railway station, seven grain elevators, a Catholic school and a public school, a post office, a blacksmith's, a drugstore, a doctor's office, a number of auto repair shops, a butcher shop that also served as a grocery store, a hotel with a beer parlor, a Chinese cafe, a skating rink, a curling rink, a library open only on Tuesday evenings, four churches (Catholic, Anglican, Lutheran, United) and the Prairie Bible Institute. Population less than a thousand. The public school, a long building with high school and junior high classrooms on the second floor and elementary classrooms on the first, was on the north edge of town and looked across ball diamonds toward grain fields
The ten months living in Mrs Wold's rooming house in Sexsmith were my first experience of living alone. Mrs Wold was a white-haired Norwegian widow who worked six days a week looking after her paralyzed son-in-law and rented out the two upstairs bedrooms in her house on a maple-lined street near the post office. The other boarder that year was the new grade eight teacher at Sexsmith School. Mrs Wold was out of the house every day except Sunday and Hilda would go home to her family on the farm whenever she could, so it was a quiet house. I needed grades that would win me a full scholarship and I slaved to get them, but I was also for the first time living in a town with a library. There was a lot of catching-up to do.
I realized later that Mrs Wold's house had been a midwife's maternity home from the 1920s into the 1950s, and that all my mother's babies had been born there, so it turned out that the house where I began to live as I would from then on - reading alone in a room - was also the house where I was born.
The journal for this period is a loose collection of papers some of which are not dated. The handwriting, especially when it is in ballpoint, is very like my mother's. There are a lot of gaps. I have filled in some of them with entries from my 5-year diary. Some of the punctuation has been regularized because there's a limit to how many dashes and exclamation marks anyone will be willing to take. I've retained enough of the spelling mistakes to show how young this serious young person still was. I have also transcribed two of my letters of the time to show how different they are from what I was writing for myself.
Parts 4 and 5 record another summer working in the Fraser Valley. Where journal is thin I sometimes transcribe letters to my mother in Alberta. In part 5 I get notification that I have a scholarship to Queen's University.
Sexsmith photos from the town website: elevators, train station and maple trees Carolyn Gaunt, others uncredited on this site.
Mentioned: Eddie and Effie Ludington; Bob, Jerry and Doris Windrim; David Mann; Peter Dyck; Dennis Maxwell.