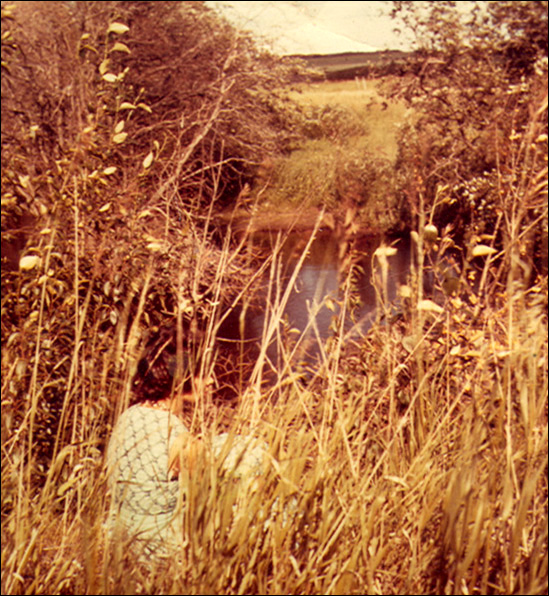 photo by Reiner
I think Mom and Dad must have been quite "in love" judging from all that gooey jazz in their poetry (they wrote all their love-letters in German!!) and in her diary, mom gassed about "Ed's nobility." Whatever happened? That's why I just can't believe it I can think of few people I know who are less noble right now. So how can I believe that it could possibly last for me? - I have a lot less of what it takes than she had - and she was so sure it was God's will
"Its part of the bowing and scraping," I said in an undertone to Judy. He couldn't possibly have understood me.
He turned his fury on me then. I felt no fear, no awe, no respect. Only wonder at such a revelation of such incongruence. And amusement.
"You - you," he went on to tell me all about my sins, the greatest of which is having independence of thought, I suppose. Actually, I can't remember what he said, besides that if I don't stop having the last word all the time, he'd take me out to the woodpile and hit me until I am black and blue - not for discipline, but pure rage, I know; and "Who do you think you are anyway?" - that's his favorite question.
I remember thinking, detachedly, You have so very little. and now you are losing your athority on all things. It is painful, isn't it? And you will fight, childishly and desperately, anyone whom you can, who is young and weak enough not to count. And not only do you have so little, but you are so little. How can I fear you? How can I love you?
-
Recently, there is something new in me, somthing too big and alarming and aggressive to be ignored. It is not good. I resent being bossed. I hate rules. I hate it when Mom says "don't ever do it again". I don't like Mr Block. I don't like rules. I don't even like school. I loved school, last year. Now I am listless all day. Bored. Lazy. I can't seem to be interested or enthusiastic. I can't want to do my best. I just don't care what I get, even tho' I still dis-like being beaten. But most of all I resent and struggle against being bossed.
15 and 16. This volume begins late February 1960 when I get back home after the hospital - begins with the first poem worth recording - and ends in June 1961 at the end of grade 10. Ordinary family and school time, writing to Reiner, 'having a boyfriend.' My parents offered to give me a watch for good grades in the grade 9 provincial exams, but I asked for a camera instead, so there are more photos from this volume on. The camera was a Bella 44 mail-ordered through the Eaton's catalogue.
Part 1 last of grade 9. Part 2 summer. Part 3 first of grade 10. Part 4 Christmas and spring. Part 5 last of grade 10.
Peter Dyck, Bessie Blask, Reiner Koblotsky, Henry Whilms, Janeeen Postman, Bernice Alstad, Adrienne Morrison, Myrtle Torgerson, Lorraine Torgerson, Rudy Epp, Judy Epp, Paul Epp, Walter Webber, David Mann, Jimmy Creighton, Gail Angen, Judy Strand, Lloyd Alstad, Al Morrison, Sharon Schwelmler, Currie Hoflin, Francis Walle, Ken Driediger, Carol Osborne, Delbert Ray, Eunice Boyd Powell, Faye Olson, Elizabeth Voth, Albert Lapointe, Mary Dyck, Mary and Henry Sieburt, Elizabeth Friesen, Violet Whilms, Verna Driediger, Melita Toews, Helen Heidebrecht, Nettie Berg, Bill and Alice Epp, Peter and Luise Konrad, Anne and Harvey Dyck, Henry Olidam, Gerald Student, Donna Berg, George Block, Martha Friesen, Buck Thompson, Madeleine Friesen, Anna Driediger, Mr Andruski, Mary Siebert, Burt *, Cornelius Wiens, Faye Bolt, Pauline and Frank Kinderwater, Edna Weibe, Dave Leonard, Karen Petersen, Jake Kroeker, Raymond Gilkyson, John Jentink, Martin Nijland, Karen Gunderson, Marlys Postman.
La Glace School, Zion Gospel Tabernacle, the Bakstad place, Wings cafe in Dawson Creek, Levelton's Lake, Sexsmith, Calgary, bible camp in Okotoks, the Smoky River, Credit Union meeting in the La Glace Hall, Banff School of Fine Arts.
The diary of Anne Frank, I'ts tough being a teenager, Youth for Christ meeting in Grande Prairie High School, Dinah Washington What a difference a day makes, Elsie Oakes Barber The trembling years, Connie Francis Souvenirs, Pat Boone Welcome young lovers, Epictetus, Seventeen magazine, Redbook, Photoplay, Kate Seredy The good master and The Chestry oak, Beverly Gray on a World Cruise, The Virginian, Maureen Daly Seventeenth summer, Jessamyn West Love is not what you think, Uncle Tom's Cabin, Lorna Doone, The Spirit of Saint Lewis, Mary Stolz Seagulls woke me, Pat's Great Hits, Varsity Guest Weekend, Sexsmith Music Night, Pearl S. Buck, Beethoven Sonata in C minor, War and peace, Titanic, Career Day at Hythe High School, Walter Nagel of the Grande Prairie Herald, Exodus, Complete works of Robert Frost.
---
Once Peter asked Kathy what she wanted from life - what do I want? That's not really a hard question - But is my answer going to be sincere right to the bottom? This is it, as best as I know, now.
Adventure - that comes first; Accomplishment - books - perhaps just a dusting of fame - not necessarily much; Acceptence - being liked, sought after among people I like and admire, a fitting in; a Beingness - what I mean is, a uniqueness, a personal self different from anyone elses, continual learning of spirit through people and places and experiences.
Selfish, a little bit - but fairly true.
-
"Elfreda Helen Epp! Your official name!" Mom said. I ripped off the end of it, slowly, calmly. "It's to say that I'm second best," I said, but hoped silently. I stared at it, not reading intelligently, until Mom took it away and glanced over the first paragraph. "You did it!" she said. "You got it!" There was just a small bedlam then.
So there I was, nibbling foolishly on my bread and butter, in the midst of Saturday night chaos with Mr Mann leaning, as he used to lean against the register in our room, against the cupboard and Mrs. Mann perched on the arm of the big chair beside Mom. The cat chose this exact time to glide into the house through the hole in the window, looking as regal as if it had been a gold plated cat-gate. The lamp was in a half bright, half-dull mood, and all of supper was still on the table. I was in my blue jeans and black sweater, that, because of some improvement in my figure, gave me a young-girls-body look. The thing I remembered best is the taste of the fresh bread with its crisp crusts, sogging with yellow butter.