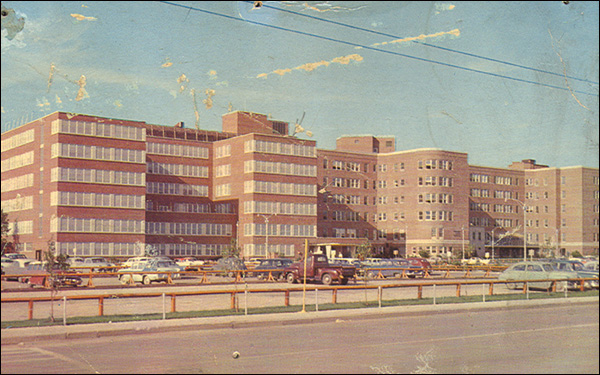 University Hospital, Edmonton Alberta, about 1959
Whenever I think of that last elevator kiss - it was unorthodox, but a very romantic spot - I can still feel that pink lump expanding and glowing away far down inside And then I go all weak and slump with my eyes closed
Maybe I'd better define what I mean by nuzzling. Nuzzling is when he tips my chair over backwards so its leaning on him, and when theres a little bit of cheek-to-cheek, and a little bit of muzzling (mouth nuzzling on my cheek) a bit of fooling around with my eyelashes little hair messing
He started the cheek to cheek process again - and I had a feeling, so I turned my face around, but slowly just fractions of inches at a time he moved my face around and back Then - well, it happened, sorta sweet.
He got half his mouth on half of mine, (his mouth is soft, but not girlish by any chance ) I could feel all those little cool shivers run down my whole body then the shivers warmed up, and the pink lump started to expand again he told me I was shaking maybe I was, but his heart was deffinately beating faster, I felt it.
Last of grade 8, summer, first half of grade 9. Then two months in the University Hospital in Edmonton, 300-some miles from La Glace. Farm girl goes to the city. 14-year-old gets far enough away from her family and community to investigate necking. Part 3 Christmas in the hospital. Part 4 Doug Odland. Part 5 Reiner Lobotsky. Part 6 Paul Sylvestre.
Donna Berg, Gail Angen, Sharon Schwemler, Jim Patrick, Raymond Gilkyson, Darrell Bekkrus, Gary Angen, Lloyd Alstad, Bernice Alstad, Janeen Postman, Arden Bangen, Ruby Hamm, Timothy Shire, Sybil Parlee, Lorraine Torgerson, IJ Christianson, Peter Dyck, Doris and David Mann, Judy Epp, Paul Epp, Arnold Gliege, Bessie Blask, Dr Olav Rostrup, Al Morrison, Robert Parlee, Bill Epp, Jimmie Muried, Kenneth Payne, Martha Friesen, Henry and Violet Whilms.
La Glace School, La Glace Pentacostal Church, Peoria Alberta, the Park Hotel in Grande Prairie, the CFGP station, Canadien Coachways stop at the Phillips 66 café in Valleyview, Edmonton YWCA, Hudson Bay department store, room 471 in the University Hospital, the Blue Willow cafe.
Crucifixion passages in the book of John, Leonardo, Gainsborough, Alas Babylon, Anne Frank, Peyton Place, Hep Cats magazine, Nighthawk radio, the Family Herald, the Good News Broadcaster, David Copperfield, Elizabeth Elliot Through Gates of Splendour and Shadow of the almighty, Zane Grey The Hash Knife Outfit, Modern literature for schools, Roget's thesaurus, Sal Mineo, Fort Defiance, Complete works of Nathanial Hawthorn, National velvet, Facts of life and love for teenagers, Giant, Main Street, Auntie Mame, 1st Corinthians 14, Beverly Cleary Fifteen, the Ice Capades, Elizabeth Barrett Browning, Edmund Vance Cooke, A summer place, Blue denim, A private's affair, 1001 Arabian nights, The flying Fontaines, Journey to the center of the earth, On the beach, Taps.
---

I wouldn't let him see my face, so he kissed the back of my neck from behind, and I didn't do a thing about it! I just couldn't make myself stop him, because I was enjoying myself far too much

He is one of those guys who is an artist as far as any sort of love-making goes a Master of the casual touch system (he sorta' rocked the chair, and every time it moved, he'd brush my hand with his then I'd get the queerest feeling - its hard to explain but the nearest I can get is: It feels like a fluffy feathery lump deep in my stomach expanding inside, tickling me all over

-
when Doug said "Jesus Cri-ist!" about something, I forgot what, I had an impulse that I followed up, What I said was "I wish you wouldn't talk about a friend of mine that way "
He said "A very good friend?"
"Pretty good. He ought to be ... "
"Yeah " that was all I got out of it all this was in the middle of a series of mild squeezes and it didn't daunt him much